You know when it's time to sell your house – but what about the kids? Whether you need more space for your growing family or your older children are starting to leave the nest and it's time to downsize, you can help minimize the stress for everyone. Check out these tips from The Front Porch – All Seasons Real Estate Blog.
Let's be honest here. Selling your house can be a stressful time. Add in kids and the situation can quickly become overwhelming, but we're here to help! Account for the needs of your children and the whole family from the start. Be upfront about the pending sale with your children, get them excited about what your move will accomplish – and get them involved.
Tip #1: Clear Out the Clutter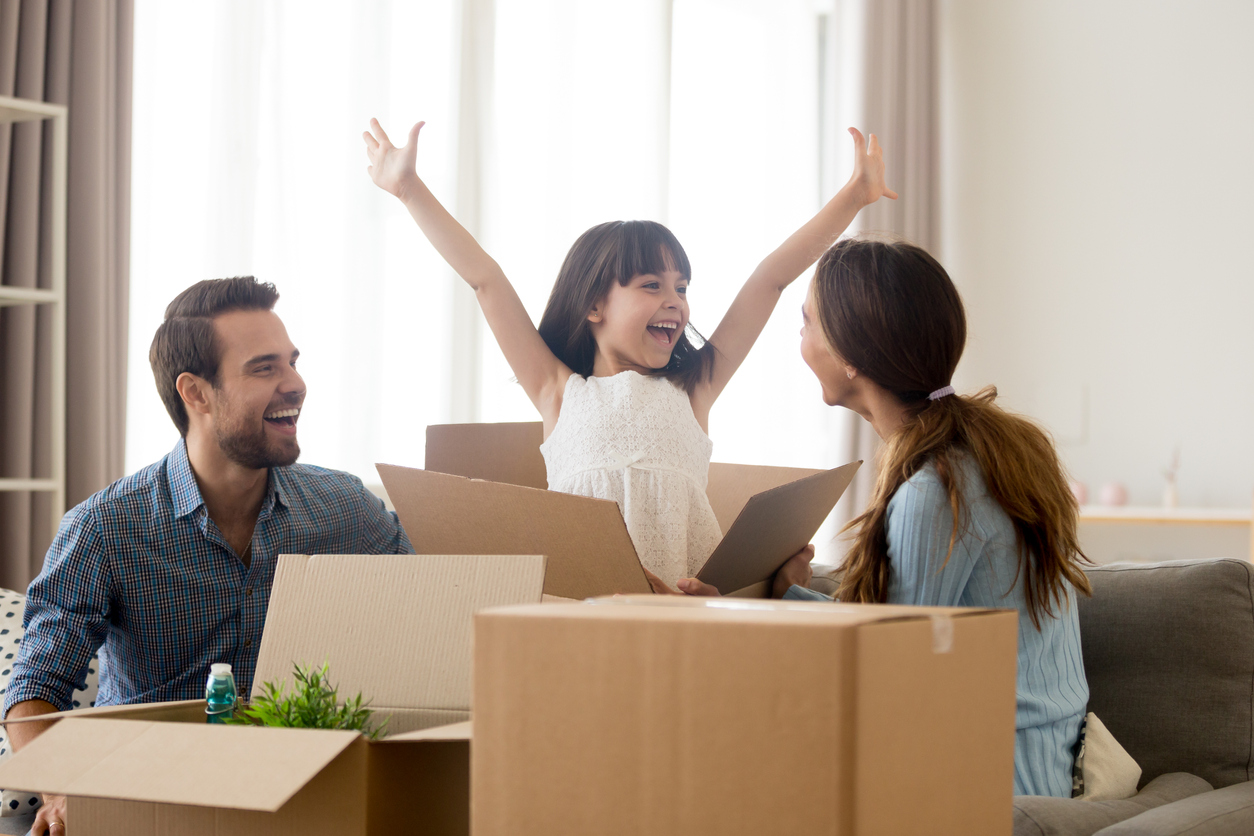 With kids, clutter is a fact of life – but when showing your home, it needs to go. Your potential buyer has to be able to visualize the space and potential your home has for their stuff (we all love our stuff, after all).
-Clear off the tops of dressers (and keep only the clothes that will fit inside).
-Empty closets completely, if possible.
-Remove artwork, kid-centric wallpaper and pictures from the walls (for privacy).
-Gather up piles of toys, stuffed animals and extra clothing for storage (and donate excess).
-Assign a sliding under-bed storage tote to each child to store any random loose items.
-Don't forget to clear clutter from the yard and garage, too!
-Reassure your child that the rest of their belongings are safe and show them your rented storage area or other location where the items are being stored.
Tip #2 Man the Escape Pods!
Transform showings from a stressful, unexpected disruption to a kid-friendly adventure with a little preparation. For the fastest sale, it is important to be showing-ready at all times – and littles will appreciate the excitement!
-Keep an empty laundry basket or bag on hand for each child. This is useful for quick exits when prospective buyers are announced to arrive.
-Get your child involved! Put their name on their personal "escape pod."
-Allow your child to choose which items are most important to keep with them.
-Be sure to keep a special bag of drinks and snacks, a change of clothes, and special treats on hand in a grab-and-go bag.
Tip #3 Plan Your Escape
Prepare a list of potential short, fun travel destinations in advance. Ask family members, friends, and neighbors if they will allow quick, unannounced visits with the children in-tow – especially during early morning and late showings when local parks and businesses may not be open.
-Keep change handy for a visit to a local arcade.
-Print the schedules for your local parks, eateries, and stores so you know what destinations are open – and when.
-If all else fails, keep a scavenger hunt printed. Don't forget "prizes!"
Tip #4 Make a Daily Cleaning Checklist
Stay on top of the little things each day – and enlist the help of the kids according to their age and ability. Even if they complain, most children actually appreciate being included as an important part of helping the family reach a shared goal.
-Keep the dishes washed, dried, and put away immediately after each meal.
-Empty the garbage daily or more often if necessary.
-Fully open the window coverings each morning. Light is inviting to potential buyers!
-Mop and vacuum floors daily (yes it is a lot of work but it truly makes a big difference!)
-Keep wipes on-hand in each room and wipe down all surfaces daily.
-Assign a "Dust Bunny Patrol" to round up any stray dust, pet hair, fuzz, strings, etc.
Tip #5 Plan for After the Sale
No matter how blasé your child may seem to feel about the move, keep in mind that it is a major change in your child's life. Children thrive on routine. The disruption of moving can create turmoil that they may not be able to adequately express.
From changing schools to leaving old friends behind, relocating is a stressful time even under the best circumstances. Take some time to consider how you can help ease the transition for your child in advance. Help them find new friends and pursue other available opportunities.

-Be sure to collect the contact information of your child's existing friends and/or parents. Let them know that your child is interested in maintaining the friendship after the move. Encourage phone calls and parent-approved social media.
-Make an effort to setup a few playdates in your new neighborhood in advance, for after you get settled in.
-Investigate available sports programs, activities, and projects geared toward your child's age in your new location.
-Allow your child to keep their existing bedroom furniture and décor if they express an interest. This continuity can help provide a sense of comfort.
-The first room you should plan to set up after the move is that of your child.
-The period following your move is not a good time for major changes. Plan to hold off on toilet training, crib-to-bed, and other similar transitions. Some regression is to be expected, as well. This is normal and temporary.
-Older children or teens have invested considerable time and effort into their social circles. If possible, plan a visit back to your old neighborhood after the move. Consider allowing your older teen to stay with a friend or relative to finish out their school year if applicable.
Now is the perfect time to list your property with All Seasons Real Estate Service. Rates are low. Demand is high. Now is the time to sell or buy! Call one of our agents to get started.
All Seasons Real Estate Service Is Here for You
All Seasons Real Estate Service is committed to promoting the success of our clients and their families before, during, and after the sale. Whether you are moving with children or not, our experienced agents offer a wealth of useful information to assist with all aspects of your move. If you are relocating to our area, we have compiled a list of local resources we hope you will find useful. We're here to help! Reach out to our caring realtors for step-by-step guidance on all aspects of your real estate transaction in Randolph, Tucker, and Barbour County, WV.